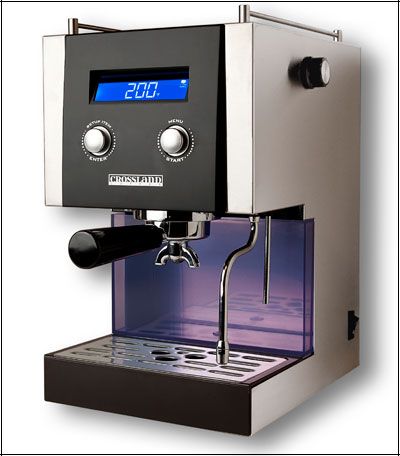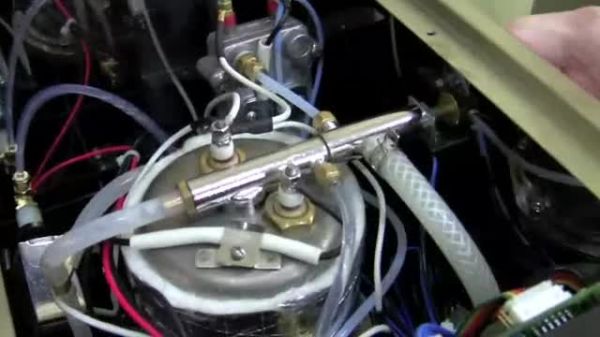 0125/1 - Crossland Coffee CC1+PF naked - À VISTA 7% DE DESCONTO♦ OU
preço sob consulta
Consultar
EQUIPAMENTO VENDIDO SOB ENCOMENDA COM PRAZO DE ENTREGA PREVISTO PARA ATÉ 60 DIAS APÓS A CONFIRMAÇÃO DO PAGAMENTO.

OBS: VALOR DO FRETE NÃO INCLUÍDO - O VALOR DO FRETE SERÁ CALCULADO E COBRADO POSTERIORMENTE.


Features:
- Programmable pre-infusion - allows the grind to pre-infuse with hot water from the boiler (0 to 15 seconds) and a waiting time (0 to 5 seconds) before full pump pressure starts. Total coffee extraction time can be between 20 and 100 seconds (includes the pre-infusion time as well as the waiting time).
- Multi-directional steam wand - with single hole steam tip and rubber protector.
- Electronic temperature control with PID - the P,I, and D can all be individually adjusted. Although the PID controller controls both the coffee boiler and steam thermoblock temperatures, PID controller can only be programmed for the coffee boiler as the steam thermoblock is pre-set and locked.
- Commercial 58 mm portafilter - fits with a host of other 58mm basket manufacturers.
- LCD display - shows icons for Pre-Steam, Dripping Time, Water Temp, Waiting time, Steam ready, Pod, 2, 1 cup, or pod espresso menu option, and Steam. Display also shows Temperature and Mode (F or C).
- Three way solenoid valve - allows backflushing and quick removal of the portafilter after extraction.
- Smart steam valve - in coffee mode, the steam knob can be rotated to full open, and the steam valve stem depresses an internal switch to engage the pump to pump water through the coffee boiler and the valve. On most other machines in this price class, one must depress the coffee switch to start the pump after the steam valve has been opened.
- 3 programmable menu selections - single cup, double cup, and pod.
Vibration pump - rated for 60 watts.
Integrated shot timer - shows timing of extraction.
- Large 500 cc coffee boiler - made of stainless steel, incorporates a heating element of 1150 watts, and is insulated on the sides for additional thermo-stability.
- Temperature sensors - located external to the coffee boiler and steam thermoblock.
- Steam thermoblock - made of cast aluminum and has a heating element of 350 watts.
- Removable cup tray - located on top of the machine.
- Passively-heated grouphead - offset from boiler, made of chrome plated brass.
- Accessories included - heavy weight 58mm tamper, dual spout portafilter, 1-cup filter basket, 2-cup filter basket, blind filter basket (for backflushing), instructional manual (in English).
Carrinho vazio.
O Expresso Brasil opera desde 2005 no Rio de Janeiro. Comercializamos cafés especiais, equipamentos e acessórios para preparação de café.

Para as vendas on-line, torramos os cafés conforme os pedidos e o prazo para a entrega costuma ser suficiente para a estabilização dos grãos. Portanto você receberá cafés muito frescos. Sempre 100 % coffea arabica. É a garantia que você beberá os mais finos cafés.

Tratamos cada pedido de forma individual, como se você estivesse presente em nossa loja. Os produtos serão separados, embalados e remetidos conforme suas especificações, em até 3 dias úteis após a liberação do pagamento. Os itens marcados como "sob encomenda" terão prazos para entrega informados antes da efetivação da compra.

CAFÉ EXPRESSO BRASIL - CAFÉS ESPECIAIS, EQUIPAMENTOS E ACESSÓRIOS PARA CAFÉ DESDE 2005